Your best claim is the claim that never happens.
What happens when you lack a proactive safety program? Accidents happen, causing your claim costs to spiral out of control, raising your ex-mod and your premiums. This can wreak havoc on your bottom line.
Create a culture of safety at your company
For almost 50 years, companies just like yours have been partnering with ICW Group to reduce their risks. As a policyholder with ICW Group, you protect your company by becoming safer and more productive. Not only is that an immediate cost savings, in the long run you'll lower your ex-mod and save money on your workers' compensation premiums.
Whether your business is large or small, you experience people who care and provide top-notch services – regardless of your company size. Here are just a few highlights of the support every workers' compensation policyholder receives with ICW Group:
Expert risk management consultations.
Incident trend investigation and analysis.
On-site and virtual safety assessments.
Safety Manager Certificate training series.
Live and on-demand safety training webinars.
Safety OnDemand – your exclusive resource for workplace safety
As an ICW Group Policyholder, you get free access to Safety OnDemand, a robust safety and award-winning learning management system.
Learn more about Safety OnDemand »
Gain immediate 24/7 access to more than 3,000 safety topics.
500+ training courses and videos to assign & track progress.
400+ pre-packaged safety talks, ready to deliver at your next safety meeting.
Personal training, from anywhere, anytime, on any device.
Already an ICW Group Policyholder?
Start using this amazing service right away! Simply log into myResource and you'll have instant access to Safety OnDemand.

Log into myResource for Safety OnDemand Register for myResource to get Safety OnDemand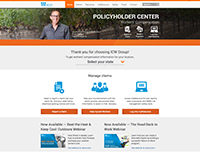 Learn more about our workplace safety services
Find details on all of our safety offering, including webinars, resources and online tools by visiting the Workplace Safety Policyholder Center, your one-stop shop for everything you need to make your work comp program a success.