VonDohlen will Lead the Company's Enterprise Data and Analytics Strategy to Further Advance the Company's Growth Initiatives
SAN DIEGO, Nov. 7, 2018 —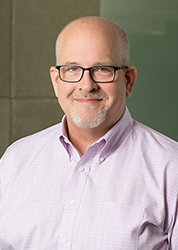 ICW Group Insurance Companies, a group of property and casualty carriers, today announced the appointment of Eric VonDohlen as vice president of Data Analytics, effective immediately. VonDohlen will oversee the company's data analytics operations and provide strategic guidance on the curation, maintenance and management of new and existing data solutions. He will be based in the ICW Group corporate headquarters in San Diego and report directly to John Novak, ICW Group's chief operating and strategic execution officer.
"ICW Group is a proven industry leader in helping policyholders achieve fewer and less costly claims. We're building on that position with significant investment in our data assets and analytics solutions," said Novak. "We're confident Eric will be an invaluable member of the executive leadership team – enabling ICW Group to better leverage data insights to further guide our strategic planning and decision-making."
VonDohlen's passion for data analytics and decision science spans a 20-year career in the financial services sector. Prior to joining ICW Group, he served as chief analytics officer at Elevate Credit, a fintech leader in the non-prime lending space. In this position, VonDohlen was responsible for all underwriting, account management, collections and fraud models for U.S. and U.K. product lines. During his tenure, he led a team of 25 data scientists and engineers and helped increase revenue 20 percent year-over-year. VonDohlen was also previously chief analytics officer at Triton Management Associates.
"Insurance is an exciting area for application of cutting edge data engineering, predictive analytics and artificial intelligence," said VonDohlen. "I look forward to working closely with a talented and dynamic team, known for its progressive leadership and keen focus on delivering exceptional customer experiences."
VonDohlen earned a Ph.D. in Economics from the University of Arizona and a Bachelor of Science degree in Economics from the University of Houston.
About ICW Group
Based in San Diego, ICW Group Insurance Companies is the largest privately held insurance company domiciled in California. Quoting more than $3 billion annually, ICW Group represents a group of Workers' Compensation, Property and Auto insurance carriers, including Insurance Company of the West and Explorer Insurance Company. ICW Group is recognized nationally as an industry leader in helping policyholders achieve fewer and less costly claims while elevating the trusted agents who advise them. For more information, visit ICW Group's Twitter, LinkedIn and Facebook pages.
Media Contact
ICW Group
Trisha Rule
858.924.8611
trule@icwgroup.com