Coronavirus (COVID-19): Helpful Workers' Compensation Resources

Jump to: Worker safety & return to work – HR resources – FAQs – Resources
The spread of the Coronavirus (COVID-19) across the globe has us all concerned, particularly in the area of workers' compensation. Employers, just like you, are currently confronting difficult questions regarding how to handle safety and health, leave and accommodation, claims and other employment issues.
To assist you, we've gathered information on this resource page to help you prepare for this spreading virus.

Keeping your workers safe
Worker safety is a top priority during this difficult time. Our Risk Management team is developing useful resources to help your employees stay safe and injury free, including checklists, references, plans and webinars.
Returning your employees to the workplace
As you reopen your workplace, we want everyone to be and feel safe. To assist in your efforts, we've compiled helpful resources to make things easier, including our step-by-step Return to the Workplace Toolkit.
HR OnDemand Coronavirus resources
As our policyholder, you have free access to our HR OnDemand services. See this helpful resource for employee guides, communications and law alerts. Newly added items include: Guidance from the CDC, OSHA, EEOC and HHS, best practices on how to handle an infectious outbreak, and a sample communication to send to employees.
Previous webinars offered through HR OnDemand
HR Guidance and Best Practices – Kara Govro, JD, SPHR and ThinkHR Senior Legal Editor, presents current guidance from the CDC, illness and quarantine issues, the Families First Coronavirus Response Act, and reducing hours or closing.
COVID-19 Regulatory Updates and FAQ Webinar – Kara Govro, JD, SPHR and ThinkHR Senior Legal Editor, addresses legal updates and the most common HR questions related to COVID-19 .
Login to HR OnDemand to get all Coronavirus resources
To get the full benefit of HR OnDemand's Coronavirus resources, login to find Families First Coronavirus Response Act (FFCRA), Sample Emergency Paid Sick Leave Policy (FFCRA Paid Sick Leave), Telecommuting Agreement, Work From Home Agreement, Acknowledgement of Receipt for Company-issued Property, and more!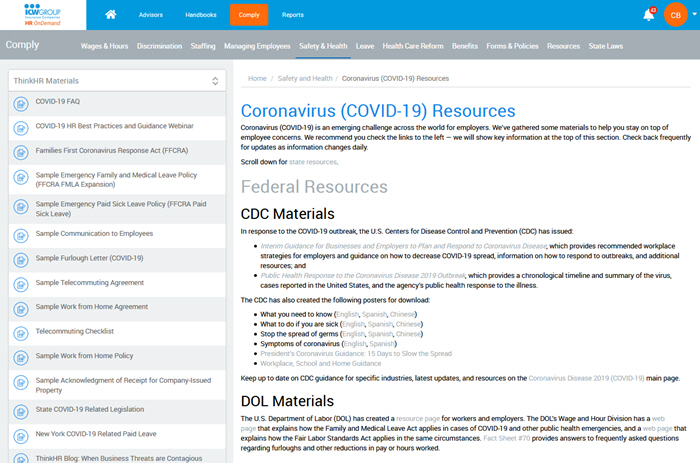 Need an HR question answered now?
Of course, if you have an immediate question, just call! The support phone number is available once you login to HR OnDemand. Their team is standing by to answer your questions about how best to manage employer responsibilities and employees' concerns on various situations related to COVID-19.
COVID-19: Return To The Workplace Toolkit – IDPRP Addendum.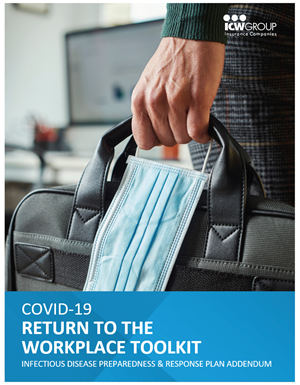 Create your own Infectious Disease Preparedness & Response Plan (IDPRP).
ICW Group talks Return to the Workplace
Helpful FAQs on workers' comp and Coronavirus
Workplace safety FAQs
These FAQs have been compiled by our risk management team to help keep your workplace safe. Updated 3/27/20
If my employee contracts Coronavirus at work is it OSHA recordable?
Per OSHA guidelines, if an employee contracts Coronavirus (COVID-19) through direct interoffice contact or in the course and scope of their work duties, the employer should document this as a "Recordable Illness" on their current year's OSHA 300 log.
Please refer to the following link to the OSHA COVID-19 website for the most current information: https://www.osha.gov/SLTC/covid-19/.
Is our Respiratory Protection plan designed to help prevent our employees from getting sick?
Yes, if it aligns with the following:
Your respiratory protection plan is up-to-date and follows the manufacturer guidelines and OSHA 1910.134 standards at all times.
Your plan includes that proper medical evaluations occur prior to any employee being allowed to use respiratory protection, sufficient cleaning and storage of respirators procedures are followed, proper fit testing occurs, cartridges are changed frequently or as needed, and damaged or worn respiratory equipment is replaced. Employees should not be allowed to share respiratory protection devices.
Please refer to the OSHA link: https://www.osha.gov/laws-regs/regulations/standardnumber/1910/1910.134.
Should we buy N95 filtered face pieces (masks) for everyone in our workplace?
What can a healthcare organization do to lessen potential exposure by employees and patients?
Like most safety related corrective actions, it's best to start with Engineering controls (outlined in the link below) to eliminate the problem whenever possible. If Engineering controls can't eliminate or control the concern, then Administrative / Managerial controls (also outlined below) should be implemented to limit individual exposures or change behaviors contributing to the risk. When these measures are not feasible or easily implemented, Personal Protective Equipment (PPE) should be used as part of the suite of strategies to protect personnel from exposure.
The following CDC link provides practical strategies for Healthcare Facilities relating to COVID-19: https://www.cdc.gov/coronavirus/2019-ncov/hcp/checklist-n95-strategy.html.
Can we protect ourselves from off-the-clock injuries when employees are working remotely?
Yes. There are several strategies to avoid "off-the-clock injuries" when employees work from home. An employee / employer relationship that fosters open communication is foundational to all. Consider the following approaches to reduce risk:
Establish definitive start and end times for the workday.
Maintain regular communication with your direct staff.
During this crisis, ask employees how they are faring, both professionally and personally.
Keep detailed records of conversations surrounding assigned work activities and times.
Workers' compensation claims FAQs
Our dedicated team of highly trained claim specialists is working hard to provide you with accurate information specific to your claims needs as it relates to COVID-19. These FAQs have been compiled to help you gain a handle on workplace-related illnesses and associated claims.* Updated 3/16/20
If my employee may have been exposed to COVID-19 on the job, what should I do?
We suggest you reach out to your designated industrial clinic or medical provider to determine if the exposure warrants a medical examination or testing. They should be able to guide you on the correct actions to take.
Is disease from coronavirus covered by workers' compensation?
Common diseases like colds and flu are not covered. In order for a Coronavirus claim to be covered by work comp, there has to be a need for medical treatment, proper diagnosis and a direct link to employment. All potential sources of exposure must be evaluated. Each claim will be reviewed on a case-by-case basis by our team of highly trained claim specialists dedicated to handling all claims involving COVID-19.
Should I report a COVID-19 claim to my workers' compensation carrier?
If your employee has contracted the Coronavirus and the exposure occurred in the course and scope of employment, you should report the claim. We have a team of highly trained claim specialists dedicated to handling all claims we may receive involving COVID-19. We'll investigate claims on a case-by-case basis to determine if workers' compensation benefits are due.
Should we take preventative measures to minimize the risk of exposure for my employees?
Yes. The CDC's website has many recommendations to help minimize the risk of exposure. We also offer HR OnDemand to all our policyholders, which is a great resource to answer employment-related questions.
If our employee with work-related COVID-19 illness infects their family, does work comp cover family member's medical bills?
No. Workers' compensation only covers employees for injuries or illness that are deemed work-related. Family members are not covered. The employee's medical provider should inform them on how to minimize the risk of infecting others and appropriate quarantine requirements. The CDC.gov website contains recommendations, guidelines and additional information.
What do we do if an employee wants to make a workers' compensation claim for COVID-19?
Immediately report all claims you suspect may be work-related. Each claim will be reviewed on a case-by-case basis by our team of highly trained claim specialists dedicated to handling all claims involving COVID-19.
* Please note: Determining compensability of claims during this pandemic requires specific facts, review of rules and regulations applicable in each jurisdiction, and state directives ordered at the time of alleged injury. These details are thoroughly reviewed by our claim experts to ensure you get the response that addresses your immediate concerns. Please contact us directly at 855.442.9252 for questions specific to claims or for guidance on handling potential scenarios.
Premium Audit
Updated 4/27/2023
During the shelter-in-place orders, we conducted 100% of the final audits virtually. We are now completing audits both in-person and virtually. If you receive a request to complete your audit, and have specific needs to conduct the audit virtually or in-person, please contact us.
Each state had different COVID-19 provisions which could affect how you report payroll for Workers' Compensation. While most have expired, the provisions were terminated as of various dates.
Furlough Pay – If you have any questions about employees you paid while they were not performing any work for you due to COVID-19 related reasons, please check with us regarding the expiration date for COVID-19 Furlough pay for your state.
Temporary Job Reassignments – If you had any employees that were temporarily assigned to the Clerical or Clerical Telecommuter classification code due to COVID-19 emergency shut-down orders, please check with us regarding the expiration date for your state.
Please contact us at PremiumAudit@icwgroup.com or call us at 858-350-2933 (M – F 7 am – 5 pm PST)
Additional links to resources
The Centers for Disease Control and Prevention (CDC) and World Health Organization (WHO) continues to issue guidance to employers, community groups and families based on the current state of COVID-19.